Like many Coloradans, I spend a lot of time in the backcountry. And I've seen my share of accidents, illnesses, and injuries. When you're sick or hurt, and miles from medical assistance, what do you do? You hope someone comes by with Wilderness First Aid (WFA) training.
I took my first WFA course about fifteen years ago, recertified five years ago, and in September, I took the course again. Offered by NOLS, a nonprofit global wilderness school, WFA comprises two full days of in-classroom and in-the-field training on how to assess the status of a person's illness or injuries in the backcountry, provide first aid, and decide whether to evacuate them. This year, the class was held at Cheyenne Mountain State Park, and it was a full group – twenty-one students in all, and two instructors, Geoff Irons and Molly Barnes.
You may know Geoff from outdoor retailer REI in Colorado Springs. A West Point grad with a twenty-six-year Army career behind him, Geoff's been in retail and training at the shop for almost two decades. In addition to teaching courses for NOLS, he's also volunteered his time as an ambulance squad EMT, a Wilderness EMT, and a Ski Patroller, and he currently serves on the El Paso County Search and Rescue team. So if you run into Geoff at REI and want advice on the best first aid kit, skis, or satellite communicator for your adventures, expect a great answer. The guy knows his stuff.
I've taken courses with Geoff before, but Molly was new to me. A co-founder of the High Mountain Institute, she was the Head of School there for eighteen years. Molly worked for that organization and with NOLS for more than two decades, taking kids on extended wilderness expeditions. A few years ago, she, her husband, and their two sons left Leadville for a three-year, 36,000-mile sailing adventure, settling in California. Molly returned to NOLS as a WFA instructor, and now she visits Colorado as often as she can.
Like I said, this was my third time around, and it was the best. The days are long – 8 to 5, with few breaks – and I don't know how Geoff pulled it off in the past all by himself. I taught K-12 and college years ago and being "on" for hours at a time wore me out. It was exhausting. Having two instructors take turns with the class instruction, and then monitoring students' fieldwork, seemed like the perfect balance.
The other difference I noticed this time around was my ability to remember all the steps to assess a scene and a patient, and what to do next. Geoff and Molly enlisted mnemonics: 1-2-3-4-5 and A-B-C-D-E:
Number 1 was a reminder that "I'm #1," so no matter what, take care of myself first.
Number 2 rhymed with "What's the matter with you?" This is where I would quickly size up the scene.
Number 3 rhymed with "Nothing on me," a reminder to put on my PPE (personal protective equipment).
Number 4 was "Are there any more?" where I'd look for other potential patients at the scene.
Number 5 was "Dead or alive?" where I would quickly assess whether anyone else required my assistance or were beyond help.
Next came the ABC's:
Airway: Is their airway obstructed?
Breathing: Are they breathing?
Cardiovascular: Check for a pulse, then check for blood.
Disability: What is the nature of their injury or illness?
Expose: If there's a wound or area of disability, expose it and prepare to treat.
After that, the process got more complicated, but we had handy laminated pocket guides for the next steps.
The PPE stuff was new, probably added due to COVID. The rest was a refresher for me, and I needed it. Unless you use first aid in your job, teach it, or practice it, you won't remember everything. Geoff and Molly drilled it into us though: After each class session to discuss things like wound management, burn treatment, musculoskeletal injury care, shock, altitude sickness, heat stroke, and hypothermia, they'd send us outside where we'd have to go through the whole 1-2-3-4-5-A-B-C-D-E process on a student/patient, diagnose their injury or illness, and treat them. The repetition was invaluable and necessary. By the middle of the first day, students had the initial scene and patient assessment dialed in and could focus on the treatments.
During lunch breaks, I got a chance to talk to other people in the class. One woman was getting certified as a Wilderness First Responder (or WFR, a more in-depth, 9-day program) and a guy was getting WFR recertified. A few people had come down from Denver for the class. Apparently, Colorado Springs was the closest site that had openings available. I talked with more people: two women from Dallas and two from Austin. I asked if they were here on vacation and just decided to take the course, and they told me no, this was the closest location for the class, so they were here specifically for WFA training.
Here in Colorado Springs, we're lucky to have access to so many outdoor adventures. And we're lucky to have instructors like Geoff and Molly, locations like Cheyenne Mountain State Park, and courses like Wilderness First Aid, where we can pay a few hundred bucks, drive a few miles, and get a class that draws people from across the state, and even Texas. You can sign up for NOLS classes on their website at https://www.nols.edu/en/courses/ or through local retailer REI at https://www.rei.com/events. Once you've completed a course and are an official NOLS alumnus, you have access to training expeditions, and you can even train to be an instructor yourself – something to consider if you're retired or just have some flexibility with your time in this new mid-pandemic, work-from-home, gig economy. Courses can make a great gift too, but if you go that route, make sure the giftee is interested in the class topic and has availability, and consider taking the class with them.
Enjoying the great outdoors is a gift. Being a responsible outdoorsperson means being safe and doing what you can to keep others safe too. And a WFA course is a great place to start getting the A-B-Cs and 1-2-3s of safe outdoor adventure.
This blog first appeared as a column in the September 20, 2021 Gazette North Springs Edition.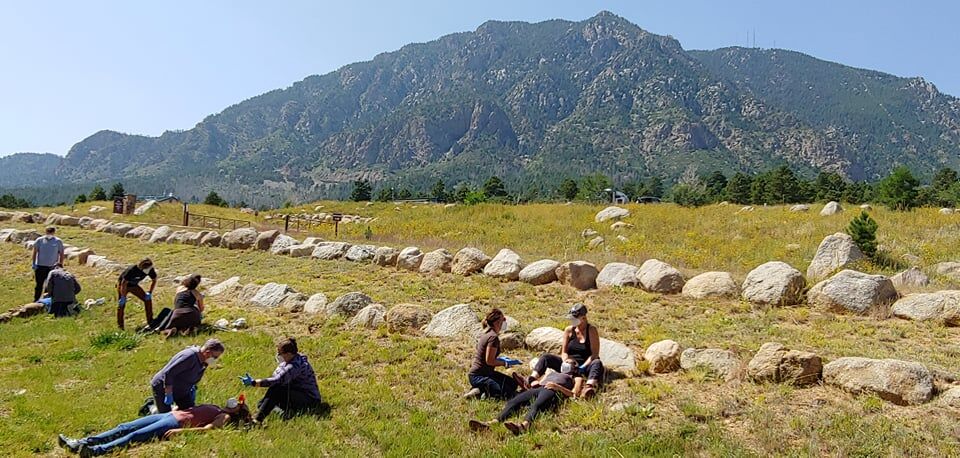 NOLS students assess "patients" during a Wilderness First Aid course at Cheyenne Mountain State Park, Colorado Springs. Photo by Geoff Irons